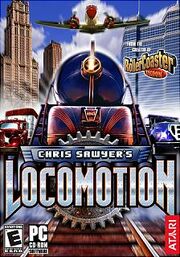 Chris Sawyer's Locomotion (often abbreviated as simply Locomotion) is a game created in 2004 by Chris Sawyer and released through Atari. It was based narrowly on his 1994 Transport Tycoon, but with updated coding and graphics (drawn by Simon Foster). The goal is to create a transport company that can transport passengers and various cargo between cities or factories and defeat other companies that try to do the same.
Technical details
Edit
System requirements
Edit
Windows 98/2000/Me/XP/Vista/7
Pentium III 500 MHz or higher
128 MB RAM or more
85 MB free HDD space or more
8x CD-ROM Drive
Windows 98/2000/Me/XP compatible graphics card with 8 MB of memory or more
Windows 98/2000/Me/XP compatible sound card
DirectX 9.0b (included) or more
Other important notes
Edit
Release dates

United States: 7 September 2004
Germany: 9 September 2004
France: 10 September 2004
Australia & New Zealand: 17 September 2004

Final version: 1.76 (displayed in-game 4.02.172)

Multiplayer options: Direct connect (TCP/IP) and LAN


Compatible third-party multiplayer: GameRanger, Tunngle

Languages: English (UK), English (US), German, French, Italian, Spanish
Development
Edit
Chris Sawyer had been trying to create a sequel to his best-selling game Transport Tycoon from 1994, but the development was kept on hold while he was working on the widely-popular RollerCoaster Tycoon series. He finally got the chance to finish and release the game in 2004, using the adapted RollerCoaster Tycoon 2 engine.
The game merges the base Transport Tycoon gameplay with several mechanics from RollerCoaster Tycoon. Unlike its predecessor, Locomotion has objectives in each scenario which need to be met in order to win the particular scenario. Scenario difficulties vary and they are sorted accordingly. The interface has been redone, using a significantly smaller percentage of the screen, allowing for better visibility of the map.
To achieve the goal, the player can use various vehicle types to transport resources and/or passengers. With the exception of a few easier scenarios, opposing companies will emerge with time, attempting to complete the objective as well.
Reception
Edit
The reception was mixed at best, and the critics believed that the game delivered more of the same in an aging engine. Nevertheless, like all Chris Sawyer's games, Locomotion received a fanbase of its own.